Here at Green Field Marketing we're very excited to be nearing our first birthday under our new entity!  We've so many achievements to be incredibly proud of from this time, and will look back in more detail after the year is complete, but one thing we have now officially accomplished is 12 months of being a Carbon Positive business.  Sustainability was one of our core brand values we focused on when setting up the company, so to look back at how far we've come is truly humbling.
To achieve our Carbon Positive goal, we took the following steps;
Green Field Marketing offset our total carbon footprint on an monthly basis through the planting of trees and funding of Carbon Reduction Projects via Ecologi. – 

https://ecologi.com/greenfieldmarketing
We are extremely proud to be one of the first companies in Northern Ireland to move Field Sales Reps into pure electric vehicles.

  

Not only does this immediately cut carbon emissions, but it also gives these staff members the education and tools required at home for ongoing sustainability.
Green Field Marketing continue to use paper-free practices where possible, including digital briefing docs, payslips and invoicing, as well as all candidate information being gathered online.
Office working practices encourage a mix of home and on-site working.

  

This not just saves on carbon emissions on the commute to work, but also ensures we continue to support employee mental health.

  

When coming to the office, public transport is also encouraged.

 

In 2021, Green Field Marketing moved from our own dedicated office space into shared office space in River House in Belfast's city centre.

  

The corporate social responsibility policy and ethos of these offices, made this a natural fit when looking at sustainable working practices. –  

https://workclockwise.co.uk/corporate-social-responsibility/

 

 
In addition to this, we also worked in partnership with many of our clients, so see how we could better work together to drive sustainability within our teams.  Our clients and field staff will all be invited to take part in Green Field Marketing's first annual "Green Together" day where we will collectively work to clean up some of Northern Ireland's beautiful beaches.  While there's no doubt this year has been a great success, we view it as the first of many steps towards making Green Field Marketing true leaders in both performance and sustainability.
One of our favourite things to review, and the perfect visual to end this look back, is Ecologi's "Impact Visibility" charts, which puts the carbon savings into real-life terms.  We'll never tire of watching these numbers grow…
Green Field Marketing's Carbon Savings to date, equate to;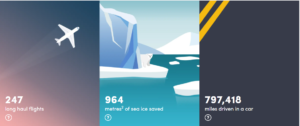 Here's to a long Green future together!