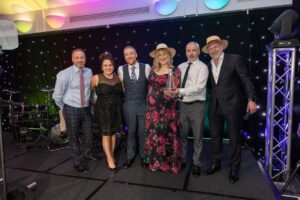 What a night!  Green Field Marketing had tremendous success at their first ever FMBE Awards, coming home with 2 Gold Awards and 1 Silver , including Gold in New Agency of the Year.  These awards as the most prestigious in the industry, so the validation is tremendous after a hectic first 18 months.  As important as recognition from our peers is, we fully intend to use this success as a springboard to even greater things, and already look forward to celebrating future successes as one big team.  Onwards and upwards on our quest for continuous improvement!
Judges feedback for each of these awards is as follows;
Professional Agency Management Award – Gold
The story for Green Field Marketing was similar to Logobrand's only more dramatic as this entry showed the turn around in fortunes following management buyout of this small Belfast agency last year.
This loss-to-profits turn around celebrates the quick decision making of a management team now operating under strategic freedom and with software chosen to suit their scalable and flexible intent.
With EBITDA and client wins now in their favour the agency is also focussed on living up to the implications of its new name, Green Field Marketing. The Carbon Positive agency is associated with Ecologi.com. Some of the highlights are 
 Over 7000 Trees planted to ensure we are Carbon Positive
Over 1200 Trees planted as Client Gifts

KP Snack Sales Team and Field Manager moved to fully electric cars

Over 98% Recycling Rate

Velocity Vehicle Tracking in to ensure fuel efficient driving
Sustainable Client Relationship – Silver
The agency's transition in 2021 to a new name, Green Field Marketing, after management buyout was a clear enough statement of intent. Now the agency works with Ecologi for carbon positive practice and is building an electric fleet, starting with KP Snacks, for whom Kia E-Nero cars have replaced caddy vans, which have been adopted by the team with minimal capacity loss – even though smaller in size.
Ricky Watts, Northern Ireland Business Manager, KP Snacks: "Sustainability has been an active focus for KP Snacks for over 5 years. As a company we've made wholesale changes in our packaging processes to drive carbon reductions. We've also educated our personnel through annual CSR days, where best in class examples are shared business wide.  One challenge we have had however, is how to drive improvements in sustainability into our Field Teams. 
We have always encouraged our outsourced partners in NI to drive improvements, and had some success historically, but it wasn't until Green Field Marketing launched in 2021 that we saw genuine innovation. I truly believe they are best in class at sustainable practices and have no doubt that their model of Carbon offset through Ecologi and EV's will become the norm over the coming years.  Not only have these changes helped the team operate in a carbon positive manner, but it has done so by increasing productivity rather than having an impact. I'm genuinely excited to take the next step in KP Snack's sustainability journey with our partners Green Field Marketing."   
New Agency of the Year – Gold
This is an occasional award, presented when a good enough new agency makes its mark at FMBE. For Green Field Marketing the 'new' title bears relevance because a management buyout allowed the team a completely fresh start – albeit with some existing clients on board.
Green Field Marketing impressed as a refreshing new voice at FMBE 22. As well as an impressive entry with KP Snacks in our Special Award and a gold win in professional agency, the team also impressed with shortlisted work for client Boost Drinks, with Green collating the data from a field marketing campaign that used multiple agencies around the UK.