Last week, the highly anticipated Green Field Team Excellence Day unfolded at the prestigious Windsor Park National Football Stadium in Belfast, and it was nothing short of extraordinary! Colleagues and clients from across the UK converged to celebrate our team's unwavering commitment to excellence, and the day exceeded all expectations.
Watch the video and see for yourself how amazing the day was.
A Warm Welcome: We kicked off the day with a heartwarming meet-up, a chance to connect and share the excitement before diving into the main event. It was incredible to see so many familiar faces and welcome new ones into the Green Field family.
Informative Insights: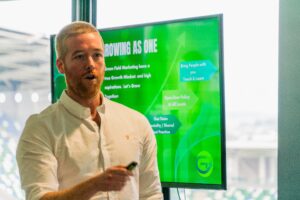 The agenda was packed with enlightening presentations that delved into various facets of our business, including updates on current contracts and strategic developments. These presentations provided a unique opportunity to gain a deeper understanding of our organization, foster fresh perspectives, and fuel our passion for what we do.
Inspiring Wisdom:
The day took a remarkable turn with a captivating keynote speech from none other than Geoff Wilson, a distinguished Sports Strategist with a global footprint. His words were more than motivational; they were a catalyst for personal and professional growth. His message underscored the significance of teamwork and collaboration in achieving unparalleled success.
Building Bridges:
Team-building activities were the heartbeat of the day, bringing employees from diverse areas of the business together in a virtual journey across the globe. These engaging exercises were instrumental in breaking down barriers, sharing best practices, and strengthening the bonds within our team. It was a celebration of collaboration, an occasion to learn from one another, and an opportunity to elevate our teamwork skills to new heights.
Feast and Festivities: Of course, a day like this deserved a grand finale! We gathered for a delicious meal and live entertainment that added an extra layer of joy and camaraderie to the proceedings.
Our annual Team Excellence Day was more than just an event; it was a unique opportunity to meet clients and colleagues from different corners of our organization. It was a chance to build new connections, celebrate our achievements, and look forward to a future marked by growth, collaboration, and the unwavering embrace of our Core Brand Values.
At Green Field Marketing, we don't just celebrate excellence; we live it. This day embodied the spirit of our team, showcasing our dedication, passion, and commitment to pushing boundaries and achieving greatness together.
Thank you to everyone who joined us on this incredible journey, and here's to many more years of excellence, growth, and success!
#GreenFieldExcellence #TeamworkMatters #InspirationEverywhere